Another great advantage of the All-on-4 concept is that the dentures are firmly affixed to the implants at a special angle, which means that a successful procedure can be performed without bone replacement surgery, even for cases of insufficient bone matter. Thus, the procedure is shorter, recovery is faster, and treatment is more cost effective. Via this technique, you are saved from serious surgical and financial burdens while achieving a satisfying result and a significant improvement to your quality of life.
---
The treatment steps
according to the All-on-4 concept
1. Consultation
Before treatment, our dental surgeon examines the condition of your teeth, your jaw structure, and evaluates your panoramic X-ray or CT scan to provide you with the most accurate information you can to plan the size and position of the implants to be set in place. During the consultation, we answer any questions you may have, and then we prepare a personalized treatment plan and price quote.
---
2. Installation of the implants and temporary fixed bridge
Following the consultation, oral surgery and implantation can take place within 24 hours. The essence of the procedure is that six or four implants are inserted into the upper jaw, while four go into the lower to ensure that the upper and/or lower bridges are fixed and stable. Removal of any existing but unusable teeth, inserting the implants and the temporary fixing of the bridge are done in one session, so you can leave the clinic with a new fixed temporary on the same day. Utilizing local anesthesia (injection), this can be performed almost painlessly, but, if you insist, you may be given a general anaesthetic during these procedures. After surgery, you should only experience minimal facial pain and swelling. This can be quickly alleviated by an analgesic, or by applying ice.
---
3. Final denture insertion
Dental implantation requires approximately 3 to 6 months of healing time. In addition to proper oral hygiene, during this time, the root simulations solidify into the bone, forming a stable part of the jaw, so that they can be permanently replaced. The materials used may be zirconium, metal ceramics, composite metal frames or innovative PEEK materials (e.g. BioHPP); the choice is based on your aesthetic or other considerations.
---
4. Regular check-up and dental hygiene treatment
Following treatment, we await your first visit in a month's time (and then every six months) for a regular check-up with one of our qualified dental hygienists.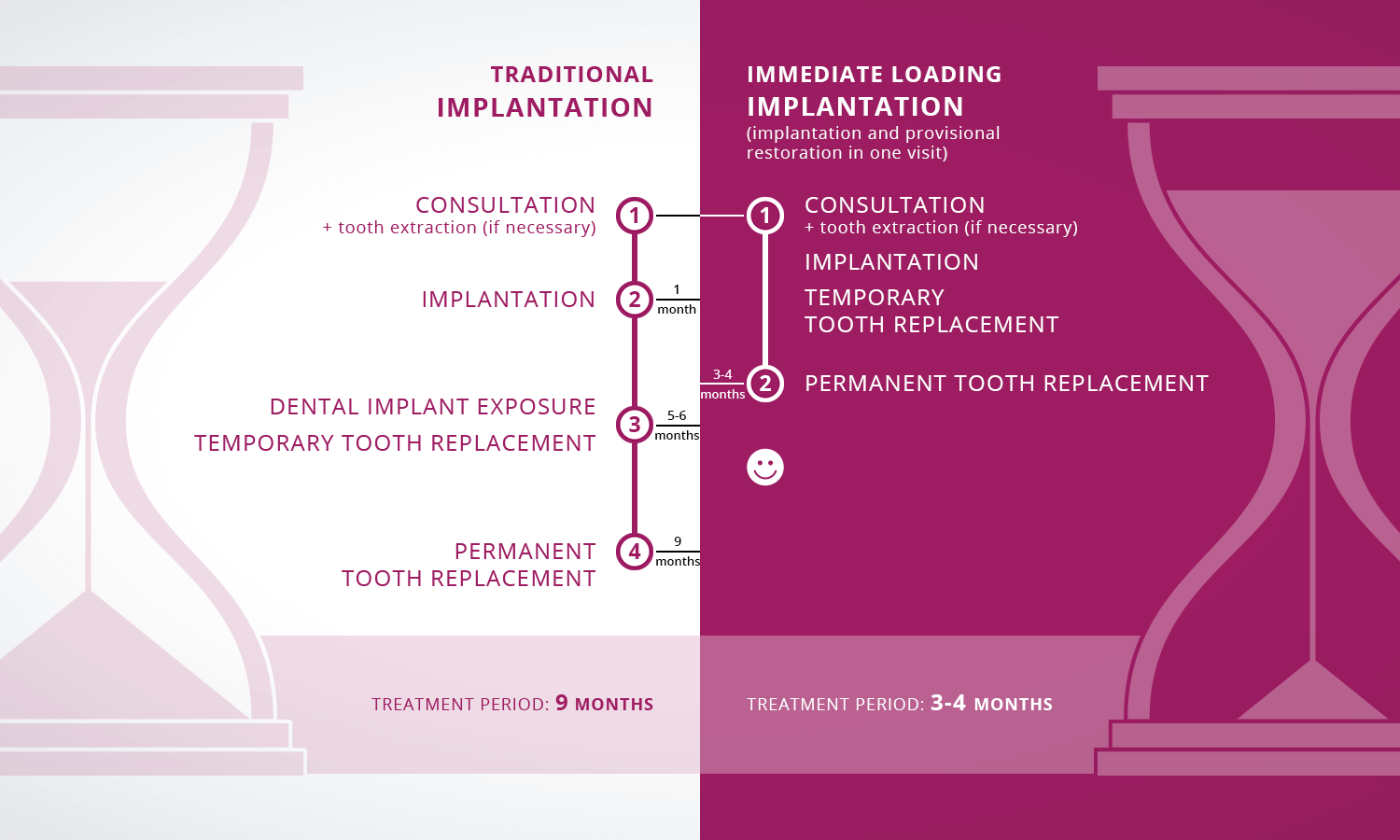 Contraindications:
Alcoholism, heavy smoking, drug and substance addiction, and some diseases, conditions (bone diseases, untreated diabetes, serious cardiovascular problems, pregnancy). A dental surgeon determines any exclusionary grounds and, if necessary, proposes an alternative solution.
FAQ – Frequently asked questions about ALL-ON-4