Years later, back to the dentist
I am the type of patient who only goes to the dentist when something goes wrong, when things are really bad. My teeth had become discoloured, my gums infected, and I felt something was wrong with my old bridge. As the conditions in my mouth deteriorated, my mood went sour, my appetite decreased, and in such a state my self-confidence diminished, so my social life was in ruins. This all made it apparent that it was time to seek dental help.
An examination revealed that the bridge on my upper front teeth could break at any time: that day, the next week or next month. Also, the dentist said that the teeth under the bridge, and the gum around them, were in terrible condition.
A couple of years earlier all my upper teeth had been removed on both sides, so I couldn't fathom losing my front ones and having no teeth at all on the upper arch. So, I decided to do something, to overcome my fears and start a journey toward a healthy smile.
Madenta, where business is taken seriously
At home, I got a treatment plan and price offer from an Icelandic dentist, but I wanted to weigh my options before I decided, so I investigated further.
After asking around, reading a lot of reviews on the Internet, and reviewing various dental clinics' websites, I contacted two Polish dental clinics and two Hungarian ones. One of them was Madenta whose website was very compelling, plus they had the unique feature of working with native-speaker contact persons, such as Gunnar.
Then, I sent out my "ear-to-ear" X-Ray via email and within a few days I had received four offers. It was shocking to see the difference in approach. First of all, the prices of the East European dental clinics were significantly lower than the Icelandic dentists'. But there were also other differences. The two Polish clinics and the other Hungarian one sent back only cost estimates; not real suggestions, only numbers.
But when I had a look at Madenta's offer, it was apparent that the clinic takes its business seriously. Their treatment plan was beautifully detailed. It showed the status quo of my mouth and how it would improve via the treatment.
The solution: All-on-4
They offered an implantation method called "All-on-4". According to the plan, all my remaining upper teeth were to be extracted and replaced by four implants that can hold a full bridge.

When the treatment plan came back, Gunnar presented it to me. I requested that he make some time to be able to answer my questions, but his explanation was so detailed that I had no further questions… 😊

He explained the great advantages of the state-of-the-art All-on-4 implant technology: specially designed implants are inserted at a special angle so they can be used immediately, which means that the patient can receive a temporary, fixed bridge as early as the day after tooth extraction and implant insertion! It is a much more advanced technique than the one that was offered by the Icelandic clinic, yet the grand total for treatment was significantly lower than the cost of treatment in Iceland. Due to their poorly detailed plans, the other three clinics lost my interest. So the choice was obvious – Madenta and the All-on-4 concept!
Arriving to Budapest for the first time
With the help of Gunnar, flights, accommodation and appointments were arranged, and on a beautiful April day, along with my wife who joined me to give me support, I landed in Budapest. This time I stayed for a week.

Being familiar only with Icelandic healthcare, I only expected to meet my dentist on the first day for a consultation, and probably an X-ray, then having my teeth extracted on the second day and getting the implants on the third. But this is not how it happened. I arrived at Madenta, anxious and scared, and met Dr György Péter, one of their surgeons.
From the moment I entered the clinic's beautiful setting, my heartbeat started slowing, and after a few minutes with Dr Péter, I felt fairly relaxed.
An unexpectedly busy day in the name of the All-on-4 concept
And I stayed like that even when I learnt that everything would happen right there and then: my teeth would be extracted, and implants inserted – a very different method than how they do it in Iceland! I did not even have time to think about it, and in retrospect it was the best way to do it.

The surgery went well, and the most uncomfortable part of the procedure was the anaesthesia shots. Everything was explained, down to the smallest detail. Dr Péter talked me through the whole process, so nothing came unexpectedly. During the operation Icelandic folk music was playing in the OR to relieve my stress. This was a kind gesture.
After removing my front teeth, Dr Péter immediately installed four implant screws and a plastic temporary crown (called "chairside crown") was inserted, so I did not go toothless even for a single day.
When I got back to the hotel, I slept 4 hours. In the evening I had soup for dinner and a nice chat with my wife, so it was like the end of a "normal day". I wasn't in pain at all. I think this was due to the special care taken while they worked on my mouth.
Temporary bridge makes a huge difference
The next morning I was in Dr Árpád Nagy's chair. He took a dental impression of my mouth with an intra-oral scanner. By the next day, based on the scan impression, my temporary bridge had been fashioned in the dental laboratory.
The moment it was inserted into my mouth is unforgettable. I felt that something important was happening: the quality of my life went up a few notches in just seconds.

And not just that: that was the moment when I decided to have it ALL – I mean, not just the rehabilitation of my upper teeth, but also the rehab of my lower ones. Never before had I considered the prospect of a fully restored smile. It was such a sudden thought, an aching desire, that I can't even recall how it came to me.
I asked Dr Nagy about it, and within a few minutes he had prepared a new, expanded offer that also took my lower teeth into consideration. I was blown away by the fact that a full oral restoration would still cost less than fixing my upper front teeth back home. So, I told him:
"Doctor, lets schedule my next visit to get my lower teeth done!"
The awakening of long-forgotten feelings
I was counting the days and weeks, but in the meantime enjoying my new life to the fullest. Although it was a temporary one, the fixed replacement provided a completely satisfactory solution for the healing period, both functionally and aesthetically. My first few days were about experiencing a new, long-forgotten way of eating, talking, smiling, and getting used to having more teeth.
Yes, that's right: over the years I had forgotten the feeling of having that many teeth in my mouth. But now I could eat, talk and smile with confidence, so joy and happiness had made a comeback into my life, and my self-confidence began to soar. Being in a better mood has affected my family and social life big time – they are so happy to see me smiling, happy and enthusiastic. I got so many compliments when the change first happened.
Arriving to Budapest for the second time
Four months later we jumped on a plane and landed in beautiful Budapest again. I arrived with a big smile and absolutely no fear. This time we stayed in Budapest for 2 weeks. It was a mixture of pleasure and medical tourism.
The Wonders of Zirconium
As for the treatment part, I got my superb permanent zirconium bridge from Dr Nagy. It is metal-free, super comfortable, strong and astonishingly natural-looking. I loved it from the first moment. As for the lower part, my teeth were prepared (filed down) for the zirconium crowns. And they really look like the "crowns" of my teeth as they are stunning.
I took some selfies and sent them to friends. Wow, the reactions were overwhelming – they could not believe their eyes! My wife still can't get enough of my new smile, and she keeps asking me to flash it. 
Budapest, you rock!
As we stayed for a longer time and had many fewer appointments, we got to explore Budapest. Oh, what a place! It's full of history, has a beautiful landscape, fantastic people, great pubs and restaurants, and fantastic shopping.
On a day-trip we visited three small-but-historically-important and beautiful towns called Esztergom, Visegrád and Szentendre, and in the evening we took a boat back to Budapest. It was really an amazing experience – one of the best ever! The sight of the Danube bridges, the joggers and dog walkers on Margaret Island, Gellért hill with its Liberty Statue, the illuminated Castle and the Parliament… it's a journey I will never forget.
Madenta: Helping to find that "old you"
And I will never ever forget my Madenta experience. It has completely changed my attitude about dentists and oral health care, transformed my smile, and brought joy and happiness back to my life – altogether transforming my life, completely!
A vicious circle
It was a vicious circle. Initially, Katalin quaked in her boots about going to the dentist; later she avoided dentists because she was ashamed of her teeth. As they deteriorated, her mood got worse and her confidence diminished, and after a while, she began avoiding social situations.
"Deep conversations had disappeared from my life, and all the joy. I didn't want to live my life like that, so I took a deep breath and signed up for Madenta, a clinic praised by several of my friends. This is how my new life began."
The first visit at Madenta
On her first visit, the general examination proved difficult: having to open her mouth. "Doctor Peter assured me that I should not be afraid or ashamed, because he said he'd seen everything. Then, he added some magic words: that he had not taken an oath to be judgmental, but to help others."
The solution: All-on-4
On the basis of the examination, immediately All-on-4 seemed to be the ideal solution for Katalin.
Implants with adequate primary stability can be loaded immediately, which means that the next day of surgery a fixed temporary replacement is installed, allowing the patient to return to times before they had dental problems: smiling confidently, laughing, eating and chewing vigorously.
In other words, with All-on-4, the life of a person suffering from total toothlessness can be revolutionized in just 24 hours! And, as All-on-4 also shortens the healing time, the patient can get their final permanent denture in 4-6 months.
In the first round, Katalin underwent rehabilitation of the lower arch.
"The intervention was completely painless, and the healing was free of complications. During the healing period I had a temporary denture, which really freed me up compared to before. Four months later I received the final zirconia replacement, which is strong and beautiful. Immediately, specialists began treating my upper denture. By then my fear of the dentist had evaporated, and I confidently entered the second phase."
The schedule was the same as before: extraction and implantation in one operation, placing a temporary fixed denture the next day, and delivering the final zirconia replacement after five months. The whole process was completed in one year.
"In just one year my life has changed fundamentally!"
A lucky encounter
Katalin says she is extremely fortunate to have found Madenta. "I had not yet been to a clinic with such a pleasant, modern, clean and expressively elegant environment; a soothing, cheerful atmosphere; helpful receptionists, smiling assistants and of course great doctors like Árpád Nagy and György Péter. Not to mention the technical facilities!"
The innovative intraoral scanner
She speaks enthusiastically about the intraoral scanner used to take impressions. Not only does this revolutionary device allow for extreme precision, speed and comfort, but it also saves the patient from having to bite into plaster or other imprinting materials that might make them gag. Scanning the entire denture and oral cavity takes just a few minutes, and the thousands of photos taken are used to construct a 3D model of the denture.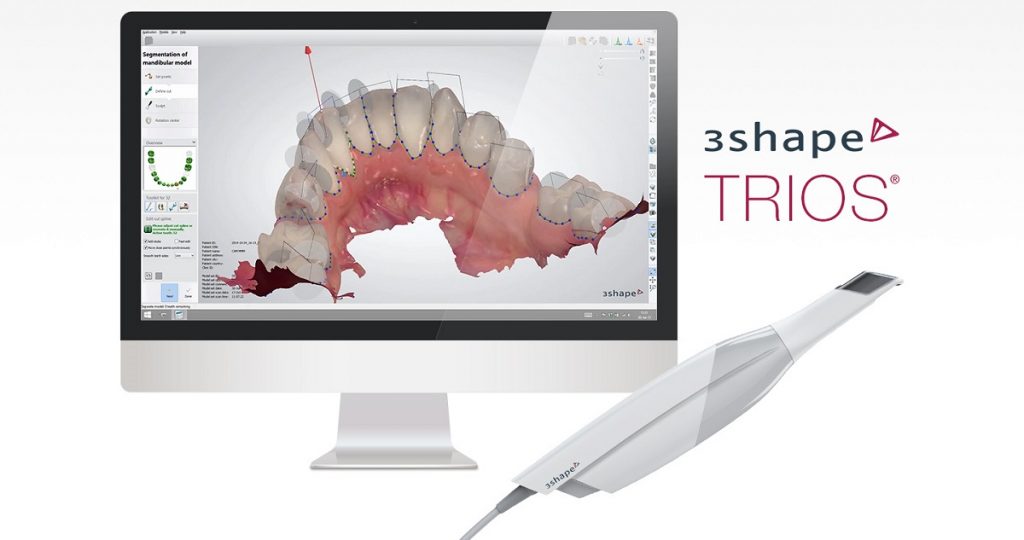 "From my past experiences, I remember how traditional dental impressions work and what they feel like – the difference is like heaven and earth. It's great that Madenta has such a device, and I felt privileged personally to have experienced this development. I'm a fan of this technology!"
To live a joyful life again
Through a series of treatments at Madenta, Katalin not only got a new smile, but the joy and beauty had returned to her life.
"I lost a lot of time because of my fears and shame. But the point is, I committed to it, dug in and made it happen! Now I know, and I tell other people who have problems similar to mine, that you shouldn't pace back and forth in one place, you just have to get started: that's the only way to make yourself happy!"
Dental issues from the start
József had always had problems with his teeth, and many were unhealthy as early as when they first appeared. By the age of 48, things got serious: his gums and jaw bones were so severely atrophied that on his lowers the front teeth were loose, had started moving, and thus had lost their function and became unsuitable for biting; they had to be removed, and they were replaced by a dental bridge. The process didn't stop there, and soon his upper gum had also degenerated.
Incomplete set of teeth or dental implantation?
That's when he got in contact with Madenta. After a check-up, the head of Madenta, Dr. György Péter, outlined the possible solutions for József. He could either wait for his teeth to slowly fall out one by one, which would also mean he would also have to deal with a more widespread tooth loss, because the remaining loose, wobbly teeth can't be replaced by a prosthesis.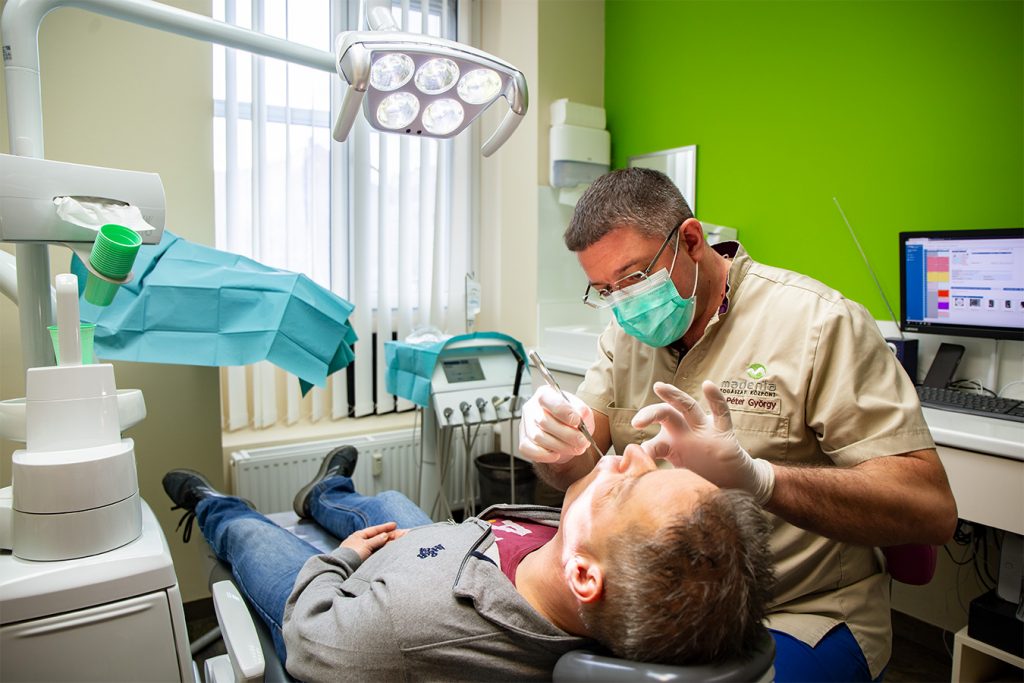 Or he could buy into the programme, meaning that all of his upper teeth would be extracted and replaced by implants.
"I did not want to live with missing teeth, because it would have made my everyday life impossible, so only the second option was acceptable. Time was a very important factor for me: I wanted to get back to work as soon as possible, whereas I have to talk with people every day, so my well-groomed appearance is essential."
"All-on-4" is the solution!
Dr. Péter recommended the All-on-4 procedure to József. The technology allows for the patient to receive a temporary, fixed bridge as early as the day after tooth extraction and implant insertion, as these specially designed implants which are inserted at a special angle can be used immediately.

With All-on-4 healing is also quick, and the final bridge is installed in 3-4 months. "I looked into the procedure thoroughly. Everyone who has undergone this procedure is grateful for the day it began."
A new smile within just a day
József woke up on the day of surgery without any anxiety. Thanks to the detailed information he had received, he knew what was going to happen as well as that he would be in competent hands at Madenta. The procedure went completely smoothly.
"Even though all my upper teeth were extracted, honestly, the most uncomfortable thing were the anesthetic shots!"
After the extractions, Dr. Péter inserted the four implant screws immediately and the next day those were fitted with a custom fixed, temporary denture. "Sometimes it still all seems unbelievable, when I think back to the fact that my life changed in barely 24 hours."

The 4 months following the operation went by without any problems: the fixed temporary replacement provided a completely satisfactory solution to avoid having any missing teeth.
Speed, accuracy, comfort? Intraoral Scanner!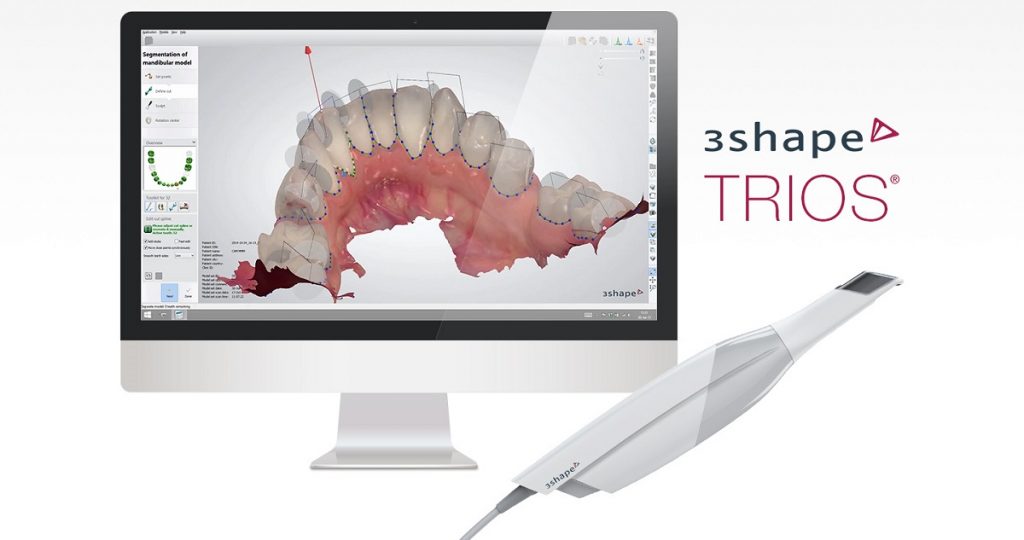 The final phase took place just 4 months after the surgery. Dr. Péter György made sure that the implants were functioning properly and then József's case was passed on to Dr. Erika Láda, who executes prosthetic work. The impression needed to make the final denture was not taken in the standard way, but with the help of an intraoral scanner.
An eternal smile
The final denture was completed in a few days and did not require an adjustment, but was perfectly fitted to József's mouth, thanks to the professionalism of the dentist and dental technician as well as the use of the intraoral scanner. "When the doctor first put the denture in my mouth, it was as if that had always been there."
"It gave me a natural look and feel and nothing I did felt unusual or needed adjusting. Of course, it is also important that it is beautiful, strong and durable, owing to the zirconium material used, but what I was most impressed with was that it felt like my own right away. What Madenta gave me my was my real smile!"
A happy and satisfied patient
And how does József sum up the treatment at Madenta?
"It was the best decision of my life. When I committed myself to doing it, I bore only hope, but now I know that by starting the treatment I decided to start a new life, a liberated and happy one."
How it started…
You most probably know at least one person in your country who has paid a visit to Budapest for dental care and returned home proudly and happily with a brand-new and gorgeous smile. Patients from Germany and Austria began crossing the Hungarian border for cheaper-yet-high-quality dental care as early as the 1980s.
Within two decades Hungary had become one of the globe's hottest dental destinations, a real "dental paradise". Most of the country's dental tourism patients – thousands and thousands per year – arrive from English-speaking countries, such as the UK, Ireland, Canada or the US. Recently, however, a new trend has been developing, as tourists from Switzerland, Denmark and Iceland are now visiting Hungary in record numbers, since their local dental treatment fees are very high, while the quality of the services is not always top-notch, but sometimes even poor in those countries.
---
Asdis is one of the many foreign patients who travel to Hungary for dental services at Madenta. Following a rather complex, but smooth and successful dental treatment, including tooth removal, temporary crown placement, and a permanent zirconium bridge placement 4 months later, she was happy to share her experiences at Madenta with us.
"I had a complex problem in my mouth,
which was mostly aesthetic – well, at least that's what I thought. There was a huge gap between my two front teeth. This so-called diastema must be a genetic thing as my son has the same problem. Also, my teeth were stained and discoloured. Because of how they looked, my self-esteem was extremely low and my self-image awfully bad. I never smiled with my mouth open – the maximum you could have seen from me was a tight-lipped smile; and many times I hid my mouth with my hand in front of strangers. As years passed, my mood and state-of-mind got lower and lower. Sometimes I told myself, 'That's it for me! I will never get back that smiley, cheerful and sociable Asdis I used to be.'
While I was constantly thinking of my defective smile,
an even bigger problem occurred. My jaw bones, along with my gums, started shrinking, and due to that some of my teeth started getting loose. They were still functioning well, so I did not pay too much attention to this problem. But I got more and more desperate about the look of my smile, so I decided to search for dental help.
You probably want to know what brought me to Hungary.
Many reasons. First, Western European patients can save up to 70% on dental care in Hungary in comparison to our prices, receiving the same quality, if not higher. Sure, the significant financial savings are an important factor, but not the prime consideration, as without high-quality service low prices mean nothing when your health is on the line. But with Hungarian dentists, one doesn't need to make such compromises! The country is well known for its high-level education system. Hungarian dentists undergo extensive training to become skilled and proficient.
But what mattered the most was
that my sister, my son and some other members of my family were already Madenta patients. And they were raving about every aspect of it: the highly expert doctors and assistants, great customer service, calm atmosphere, exclusive wellness center-like interior, state-of-the-art equipment, and excellent facilities, speed of treatment.
But what instantly won me over was a selfie taken by my sister right after finishing her restorative treatment. It is not only that I was extremely happy for her gorgeous smile, but that photo gave me hope that one day my smile could be radiant and beautiful again too, and my self-esteem healed.
So now you can see that coming to Budapest and having the treatment at Madenta wasn't an idea out of the blue, or rushed, but a well-grounded decision.
There is one more thing.
One of the many advantages of Madenta over other Hungarian dental clinics also specialized in treating foreign patients is that for several countries co-operates with native speaker contact persons.
According to the treatment plan
composed by Madenta, eight of my teeth needed to be extracted. Although I believed that things could be fixed somehow without having to remove them, this information did not come as a big shock. I knew that my life was going to be much easier, much more pleasant, and my look incomparably better with my new teeth. So, I acknowledged it: 'Okay, this is what has to be done.'
Four months later I arrived in Budapest
along with my son, who came to give me support and reassurance. I thought that I was going to need him there, as I had been seriously afraid of dentists before: whenever I had to go for dental treatment, I trembled. It wasn't any different this time. When I first arrived at the clinic, I was half-dead with fright. I did not even look around. When prosthetics specialist Árpád Nagy came to greet me, I told him straight away how scared I was.
He just smiled reassuringly, seemed relaxed, strong-willed and full of self-confidence. We had a long conversation and he explained why it was necessary to extract my teeth. If my teeth weren't removed, he said, I would face the slow-but-inevitable process of losing them one after another.
I was scared so I had many questions, but he was super nice and unendingly patient. I trusted him instantly and knew with 100% certainty that I had made the right decision. As quickly as he earned my trust, it has remained. Forever.
I stayed in Budapest for five working days,
and went to Madenta four times altogether. I was impressed by how a complex, serious treatment can be carried out in a matter of days at Madenta. In one day, I had eight teeth removed, and straight away a plastic temporary crown (called 'chairside crown') was inserted, so I did not go toothless even for a single day! Another day, Dr. Nagy took a dental impression of my mouth, not in the traditional way but with an intraoral scanner.
The device seemed like futuristic technology, but this method is much more gentle than the traditional way of taking a dental impression, which was a huge relief. In a few days, based on the scan impression, my temporary bridge was produced in a dental laboratory. On the last day, I went back to get my temporary bridge placement.
The moment it was inserted into my mouth was the beginning of my new life. I looked in the mirror and cried, it was so beautiful. The memory of that moment still brings tears to my eyes.
After getting my temporary bridge
I took a selfie and posted it on Facebook. The reactions were overwhelming. I am not kidding – in a few hours, I got hundreds and hundreds of comments and messages: 'Wow, what happened to you? Where did you get your beautiful teeth? You look so different and much younger, your smile radiates. Could you send me the contact information in a private message?' etc., etc. I was on the phone talking to people and sending messages all the time. It was like a full-time workday for me, texting and messaging everyone, recounting my experiences, and passing on the contact details. I was like a Madenta agent ☺. And my 'mission' did not simply end there.
After getting home,
I couldn't stop talking about my Madenta experiences. I recalled my thoughts and impressions. For example, the memories of Dr. Nagy, who remained extremely thoughtful and caring during the whole process. He always explained everything to me in great detail, so I always knew what the next step would be and what to expect: what I would feel, or hear. He kept talking to me throughout the whole treatment. Nothing came unexpectedly, and I felt like I was in full control the whole time. After one day I started feeling relaxed in the chair. Relaxed, calm and safe. And not just the attitude; Dr. Nagy is a highly-skilled dentist, a perfectionist, very accurate and professional, paying attention to even the smallest details.
And it is not just him, but Madenta overall. As I got more and more relaxed, I started looking around and noticing what was around me: the state-of-the-art facilities, the cleanliness, the stylish and exclusive design, the cheerful, relaxing atmosphere.
Also, I got a heart-warming feeling that Madenta colleagues work together like one big family. Everyone is kind and polite, they treat their patients with warmth, and make you feel at home. My patient coordinator is amazing, as are the receptionists. Their smile is real. I felt wonderful among these people; even waiting for my next treatment was a nice, relaxing experience.

I lived with the temporary bridge for four months
with no problem at all. It was aesthetically impeccable and functioned well. Then I came back to Budapest again, this time alone without my son. I did not need his support as I felt like I was coming home. During my second stay,
I got my permanent zirconium bridge, which is excellent! It is metal-free, super comfortable, solid and strong, and extremely natural-looking, with good translucency, shape, and color. This time I stayed for 8 working days and had many fewer appointments, so I had the chance to explore Budapest. It is such a truly charming, wonderful city. I am an adventurous person, I travel a lot, have lived in different countries – Spain, Sweden, the US – but that city is truly unique. I told my friend yesterday that I could live there. I can visualize myself as a ' Budapester' . Everybody is so kind there, they treat you as a family member or a good friend. My home country is beautiful and its people are great but in a very different way. Budapest has an especially loveable, catchy atmosphere. And it's beautiful: the panoramic views over the Danube and its bridges, the architecture…! This is a city of wonders!
And still, if you'd ask me about my best Budapest experience,
I would emphasize one thing: my new teeth, my new life. I can walk on the street now and smile at the world. That is the most wonderful and uplifting feeling!
Madenta is one of the best things that ever happened to me. Thanks to them my entire life has changed for the better, much better. I look back at old pictures, photos of my 'previous life' and it is shocking to see what a grumpy-face I was with my mouth closed all the time and no smile at all.
But now I am smiling all the time.
Sometimes I make jokes about it: 'Okay, the next big thing I should go for is a botox treatment, because I am already starting to get crow's feet around my eyes.'
No, no, I am only kidding. I would rather have 1,000 crow's feet on my face than one missing tooth from my mouth. Teeth are very important. When I meet or talk to someone, I see their eyes and teeth first. That is the first impression we make on each other.
My family and friends keep telling me
that I look much younger with my new teeth. I am still learning to live a full life again and smile my way through it. Like I learned to walk as a baby. The Madenta team probably can't even imagine the effect their work has had on my life. They are like a big family to me now.
What is my message
for those who are in the same shoes and still hesitant?
Don't wait! Go for it, and don't waste any more time. You will get a different life. Read my story – it's the truth. Trust Madenta and its team and book your ticket right now to Budapest."
Following an extensive dental treatment, involving full scaling, deep cleaning and polishing, panoramic radiograph, local anaesthesia, temporary crown placement, and permanent zirconium bridge placement, Sonja was happy to answer our questions about her experiences at Madenta, questions like: How did she find a dental clinic and a dentist in Hungary she now fully trusts? or How did she overcome her fears within a few days? For the answers to those questions and more, read our interview with her below.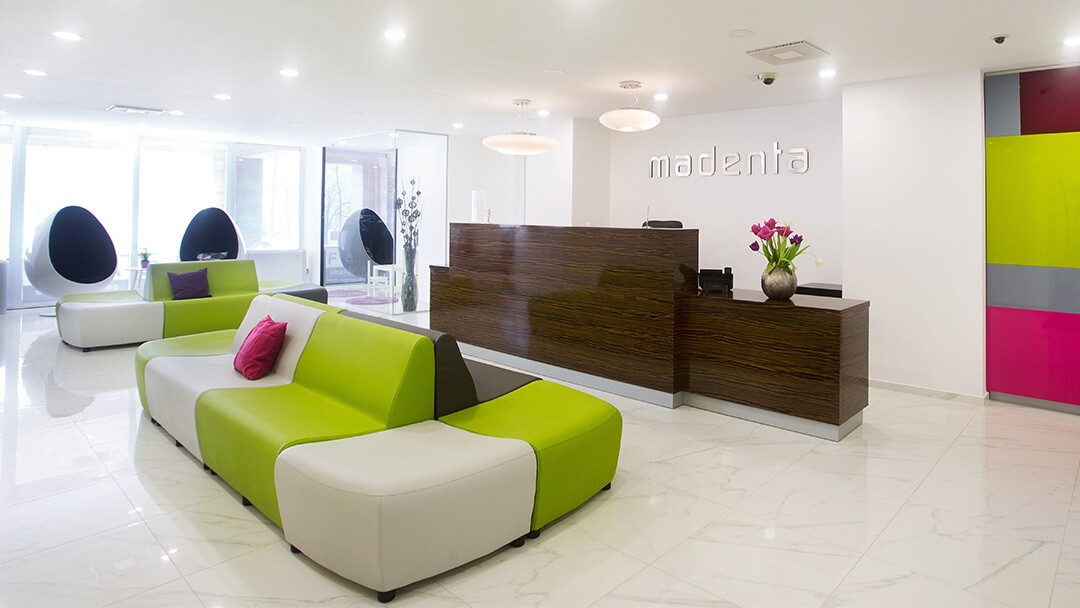 Sonja's first dental bridge had been made back in her homeland many years ago, but she was never happy with it. "First, it never looked good. Second, it broke in the beginning," she recalls, continuing:
"Two of my adjacent healthy teeth were extracted back home, in order to install a bridge to compensate for tooth loss. After one week, the middle part of it broke. Later I found another dentist who made it better, by putting a filling in it. I trusted him fully over the years, but he passed away this spring. That is why I needed to find another solution."
Why Budapest?
Sonja: It's a fact that dental treatments in my home country are very expensive. Let me give you an example: my last dentist gave me an offer for a new bridge 5 years ago for nearly 3,600 euro – I could not afford that!
My best friend recently came across an ad regarding treatments at Madenta in Budapest, promising affordable prices compared to those at home, so it was she who first told me about this possibility. Luckily, Madenta works with international contact persons, which made the inquiry process very easy: mine were very well-prepared and provided us with all the necessary information to come to a decision. They explained that due to the fact that Budapest is a "dental holiday paradise", dentists are more advanced, clinics are more modern and well equipped – everything we heard sounded absolutely reassuring! After having many chats with a friend on this topic, I told her one day:
"You know, what? I've made up my mind: we are going to Hungary! I have the feeling that my bridge could be fixed there."
How did the treatment go?
Sonja: Everything went smoothly and quickly. On the first visit Dr. Árpád Nagy, the dentist who treated me, took the old bridge out. Straight away after that, I got a temporary one, so I did not go toothless even for a single day. I left his chair within an hour with a temporary bridge. Even the temporary one looked so nice, I was totally happy with it. And the permanent one looks even better!
After getting the temporary bridge, I went to see their dental hygienist and I got my teeth cleaned and polished. I came back 6 days later and got the permanent bridge. Between the two appointments, I had so much fun in Budapest: I explored the city and fell in love with it. Altogether it was more of a city break than a medical treatment trip.
What were your first impressions of the clinic?
Sonja: The state-of-the-art facilities, tidiness, and chic design were absolutely positive! Madenta is not a typical "dental clinic" – it is much more relaxed. The entire staff is helpful, nice and kind, you feel safe, and they make you feel at home.
As for the doctor, I mentioned before that I had 100% trust in my previous dentist and never thought I would find another one again. Being able to trust your dentist is vital. And Dr. Nagy earned my trust immediately and kept it throughout the whole process. So, I have a dentist again – there, in Budapest! I will go back again whenever I need dental treatment. I plan to go every now and then for a regular check-up.
During my treatment everything was professional. Dr. Nagy explained everything in great detail. Normally, I get stressed out in a dental chair, but he helped me to relax. And his English is great!
How concerned were you about the costs?
Sonja: When you go to the dentist back home you are constantly thinking about the costs. At Madenta, everything was transparent regarding prices, treatment steps, and the entire process. You get a treatment plan with details step by step, so there were no surprises, nothing unexpected. Plus, I paid a fraction of the quote I was given in my country 5 years ago for this bridge and received excellent value for money.
Was it a difficult decision to go there?
Has it ever run through your head that "Whoa, I am going to a foreign country I've never been to before?" Or the thought of "I am going to Eastern Europe for dental work?"
Sonja: Hungarian medical education and services have a really good reputation where I come from. My daughter's friend is a doctor, who was trained in Hungary, and a lot of other Icelandic doctors have completed their studies there. The country is well known for its high-level education system and it is common knowledge that Hungarian dentists have been trained to the highest standards. I used to follow my former dentist on Facebook, and I clearly remember one communication between him and a lady who was a cancer survivor and had been treated with chemotherapy for a long time. The chemotherapy had serious side effects on her mouth. She asked my dentist what she should do with her ruined teeth. And my dentist answered: "If money isn't an issue, it might be easier for some to get their treatment in their home country. If money is an obstacle, then go to Hungary!"
Would you recommend Madenta to everyone?
Sonja: Definitely, yes, I would. I have 100% trust in the Madenta team. They offer the perfect combination of care and quality. Actually, I have already recommended the clinic on numerous occasions, recounting my experiences to some of my friends, and now they all want to go there for treatment. Also, my grandkids need braces, so I keep telling my kids to take them to Budapest and get it done there.
Is there anything else we should know?
Sonja: I just want to thank Madenta for the experience. I got full service from the very beginning 'til the end, from door to door. The entire experience has been smooth, and I felt so safe during the whole process. When we arrived in Budapest, they picked us up at the airport and drove us to our accommodation. They even drove us back to the airport.
I am very satisfied. I know people who have been there before, and the quality level stays the same. There is a group of people on Facebook who are asking questions about treatments abroad and all of them who have been to Hungary were absolutely satisfied with what they got.
What was your best experience?
Sonja: Lorand, the owner of the Clinic, took us on a boat trip on the Danube one evening. Wow, that was magnificent – like a fairy tale! The Budapest night views are charmingly romantic and breathtakingly beautiful, as the city is illuminated at night. The two banks of the river Danube were bejeweled with brightly-lit churches, the Buda Castle, the ornate parliament building, the palm-leaved Statue of Liberty that sits atop Gellert Hill, the majestic St. Stephen's Basilica. They're all fantastic sights! And I tried Hungarian wine and goulash. Heavy, but delicious!