Following an extensive dental treatment, involving full scaling, deep cleaning and polishing, panoramic radiograph, local anaesthesia, temporary crown placement, and permanent zirconium bridge placement, Sonja was happy to answer our questions about her experiences at Madenta, questions like: How did she find a dental clinic and a dentist in Hungary she now fully trusts? or How did she overcome her fears within a few days? For the answers to those questions and more, read our interview with her below.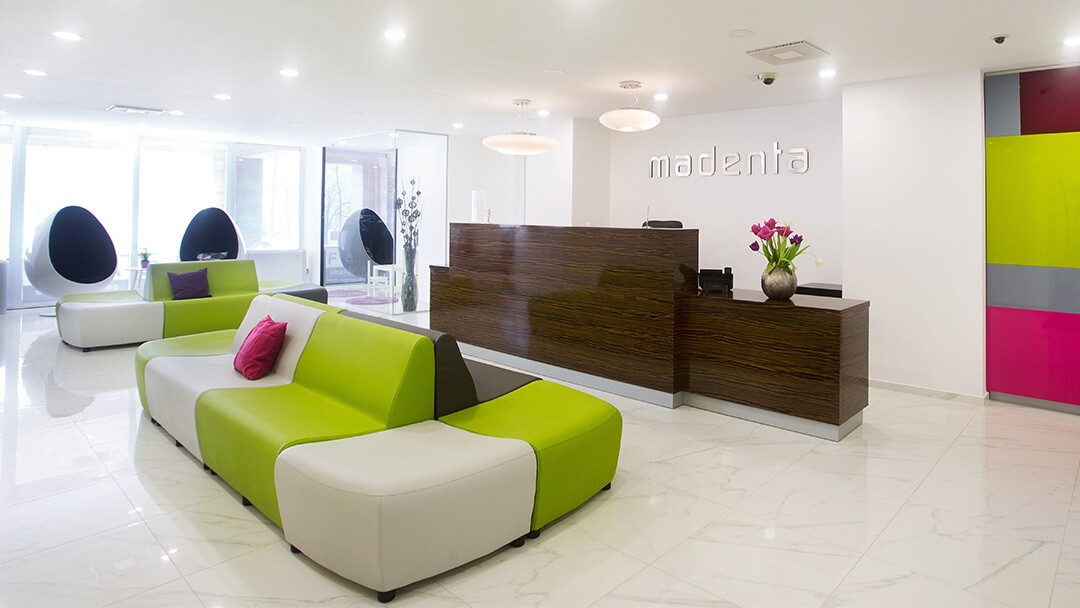 Sonja's first dental bridge had been made back in her homeland many years ago, but she was never happy with it. "First, it never looked good. Second, it broke in the beginning," she recalls, continuing:
"Two of my adjacent healthy teeth were extracted back home, in order to install a bridge to compensate for tooth loss. After one week, the middle part of it broke. Later I found another dentist who made it better, by putting a filling in it. I trusted him fully over the years, but he passed away this spring. That is why I needed to find another solution."
Why Budapest?
Sonja: It's a fact that dental treatments in my home country are very expensive. Let me give you an example: my last dentist gave me an offer for a new bridge 5 years ago for nearly 3,600 euro – I could not afford that!
My best friend recently came across an ad regarding treatments at Madenta in Budapest, promising affordable prices compared to those at home, so it was she who first told me about this possibility. Luckily, Madenta works with international contact persons, which made the inquiry process very easy: mine were very well-prepared and provided us with all the necessary information to come to a decision. They explained that due to the fact that Budapest is a "dental holiday paradise", dentists are more advanced, clinics are more modern and well equipped – everything we heard sounded absolutely reassuring! After having many chats with a friend on this topic, I told her one day:
"You know, what? I've made up my mind: we are going to Hungary! I have the feeling that my bridge could be fixed there."
How did the treatment go?
Sonja: Everything went smoothly and quickly. On the first visit Dr. Árpád Nagy, the dentist who treated me, took the old bridge out. Straight away after that, I got a temporary one, so I did not go toothless even for a single day. I left his chair within an hour with a temporary bridge. Even the temporary one looked so nice, I was totally happy with it. And the permanent one looks even better!
After getting the temporary bridge, I went to see their dental hygienist and I got my teeth cleaned and polished. I came back 6 days later and got the permanent bridge. Between the two appointments, I had so much fun in Budapest: I explored the city and fell in love with it. Altogether it was more of a city break than a medical treatment trip.
What were your first impressions of the clinic?
Sonja: The state-of-the-art facilities, tidiness, and chic design were absolutely positive! Madenta is not a typical "dental clinic" – it is much more relaxed. The entire staff is helpful, nice and kind, you feel safe, and they make you feel at home.
As for the doctor, I mentioned before that I had 100% trust in my previous dentist and never thought I would find another one again. Being able to trust your dentist is vital. And Dr. Nagy earned my trust immediately and kept it throughout the whole process. So, I have a dentist again – there, in Budapest! I will go back again whenever I need dental treatment. I plan to go every now and then for a regular check-up.
During my treatment everything was professional. Dr. Nagy explained everything in great detail. Normally, I get stressed out in a dental chair, but he helped me to relax. And his English is great!
How concerned were you about the costs?
Sonja: When you go to the dentist back home you are constantly thinking about the costs. At Madenta, everything was transparent regarding prices, treatment steps, and the entire process. You get a treatment plan with details step by step, so there were no surprises, nothing unexpected. Plus, I paid a fraction of the quote I was given in my country 5 years ago for this bridge and received excellent value for money.
Was it a difficult decision to go there?
Has it ever run through your head that "Whoa, I am going to a foreign country I've never been to before?" Or the thought of "I am going to Eastern Europe for dental work?"
Sonja: Hungarian medical education and services have a really good reputation where I come from. My daughter's friend is a doctor, who was trained in Hungary, and a lot of other Icelandic doctors have completed their studies there. The country is well known for its high-level education system and it is common knowledge that Hungarian dentists have been trained to the highest standards. I used to follow my former dentist on Facebook, and I clearly remember one communication between him and a lady who was a cancer survivor and had been treated with chemotherapy for a long time. The chemotherapy had serious side effects on her mouth. She asked my dentist what she should do with her ruined teeth. And my dentist answered: "If money isn't an issue, it might be easier for some to get their treatment in their home country. If money is an obstacle, then go to Hungary!"
Would you recommend Madenta to everyone?
Sonja: Definitely, yes, I would. I have 100% trust in the Madenta team. They offer the perfect combination of care and quality. Actually, I have already recommended the clinic on numerous occasions, recounting my experiences to some of my friends, and now they all want to go there for treatment. Also, my grandkids need braces, so I keep telling my kids to take them to Budapest and get it done there.
Is there anything else we should know?
Sonja: I just want to thank Madenta for the experience. I got full service from the very beginning 'til the end, from door to door. The entire experience has been smooth, and I felt so safe during the whole process. When we arrived in Budapest, they picked us up at the airport and drove us to our accommodation. They even drove us back to the airport.
I am very satisfied. I know people who have been there before, and the quality level stays the same. There is a group of people on Facebook who are asking questions about treatments abroad and all of them who have been to Hungary were absolutely satisfied with what they got.
What was your best experience?
Sonja: Lorand, the owner of the Clinic, took us on a boat trip on the Danube one evening. Wow, that was magnificent – like a fairy tale! The Budapest night views are charmingly romantic and breathtakingly beautiful, as the city is illuminated at night. The two banks of the river Danube were bejeweled with brightly-lit churches, the Buda Castle, the ornate parliament building, the palm-leaved Statue of Liberty that sits atop Gellert Hill, the majestic St. Stephen's Basilica. They're all fantastic sights! And I tried Hungarian wine and goulash. Heavy, but delicious!