A vicious circle
It was a vicious circle. Initially, Katalin quaked in her boots about going to the dentist; later she avoided dentists because she was ashamed of her teeth. As they deteriorated, her mood got worse and her confidence diminished, and after a while, she began avoiding social situations.
"Deep conversations had disappeared from my life, and all the joy. I didn't want to live my life like that, so I took a deep breath and signed up for Madenta, a clinic praised by several of my friends. This is how my new life began."
The first visit at Madenta
On her first visit, the general examination proved difficult: having to open her mouth. "Doctor Peter assured me that I should not be afraid or ashamed, because he said he'd seen everything. Then, he added some magic words: that he had not taken an oath to be judgmental, but to help others."
The solution: All-on-4
On the basis of the examination, immediately All-on-4 seemed to be the ideal solution for Katalin.
Implants with adequate primary stability can be loaded immediately, which means that the next day of surgery a fixed temporary replacement is installed, allowing the patient to return to times before they had dental problems: smiling confidently, laughing, eating and chewing vigorously.
In other words, with All-on-4, the life of a person suffering from total toothlessness can be revolutionized in just 24 hours! And, as All-on-4 also shortens the healing time, the patient can get their final permanent denture in 4-6 months.
In the first round, Katalin underwent rehabilitation of the lower arch.
"The intervention was completely painless, and the healing was free of complications. During the healing period I had a temporary denture, which really freed me up compared to before. Four months later I received the final zirconia replacement, which is strong and beautiful. Immediately, specialists began treating my upper denture. By then my fear of the dentist had evaporated, and I confidently entered the second phase."
The schedule was the same as before: extraction and implantation in one operation, placing a temporary fixed denture the next day, and delivering the final zirconia replacement after five months. The whole process was completed in one year.
"In just one year my life has changed fundamentally!"
A lucky encounter
Katalin says she is extremely fortunate to have found Madenta. "I had not yet been to a clinic with such a pleasant, modern, clean and expressively elegant environment; a soothing, cheerful atmosphere; helpful receptionists, smiling assistants and of course great doctors like Árpád Nagy and György Péter. Not to mention the technical facilities!"
The innovative intraoral scanner
She speaks enthusiastically about the intraoral scanner used to take impressions. Not only does this revolutionary device allow for extreme precision, speed and comfort, but it also saves the patient from having to bite into plaster or other imprinting materials that might make them gag. Scanning the entire denture and oral cavity takes just a few minutes, and the thousands of photos taken are used to construct a 3D model of the denture.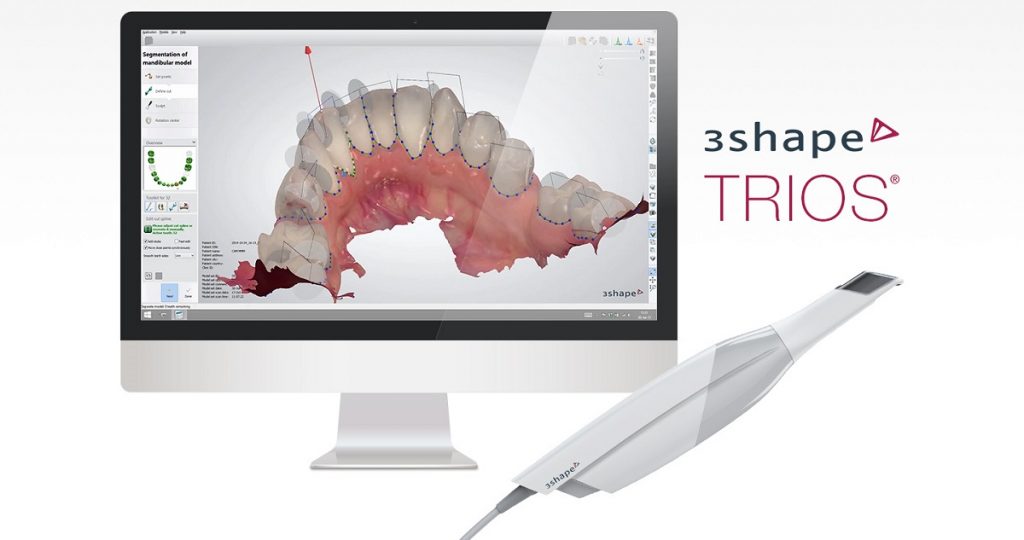 "From my past experiences, I remember how traditional dental impressions work and what they feel like – the difference is like heaven and earth. It's great that Madenta has such a device, and I felt privileged personally to have experienced this development. I'm a fan of this technology!"
To live a joyful life again
Through a series of treatments at Madenta, Katalin not only got a new smile, but the joy and beauty had returned to her life.
"I lost a lot of time because of my fears and shame. But the point is, I committed to it, dug in and made it happen! Now I know, and I tell other people who have problems similar to mine, that you shouldn't pace back and forth in one place, you just have to get started: that's the only way to make yourself happy!"